Tag and get noticed
Topic: Tips & Tricks
So, you have a blog. How's your traffic? Yeah, thought so. Just starting a blog? Wondering how to get it "out there". Well there are lots of tips and tricks for this, but here's an easy one that Qumana has made even easier -- tagging.
Let's talk tags. Tags are links in your post that allow it to be searched and grouped with other blogs and posts. Your tags should be one or two words that you would use to tell people what your post is about.
So if you're talking about cats, tag with cats. Soccer, well Soccer and maybe football. When someone clicks on the tag in your post it goes to the blog search engine Technorati and finds the other posts with that same tag. Of course if someone is looking for other posts about your subject, searches for that tag and you've tagged it ... well you can see where I'm going with this.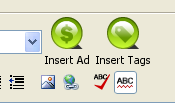 Qumana makes it super easy to tag your posts ... just use the Insert Tags button! When you click it you'll get a dialog box to enter your tags. Separate your tags with commas (you'll see the tags for this post at the bottom), and click okay. That will insert your tags in your post. Typically tags are placed at the bottom of the post. Kinda like a "see also ..." reference.
Does it work? Oh yeah. This blog is rather new, but because we've been tagging it, Technorati, and other engines, have already indexed it. Not bad for a couple week old blog!
So getting tagging!
Tags: Qumana, Lycos, Technorati, Technorati tags, tags, tagging
Posted by tris-hussey at 2:52 PM PDT